| | | |
| --- | --- | --- |
| | WELCOME TO | |
SECURITY PEST ELIMINATION
Serving the Abington MA Area Since 1993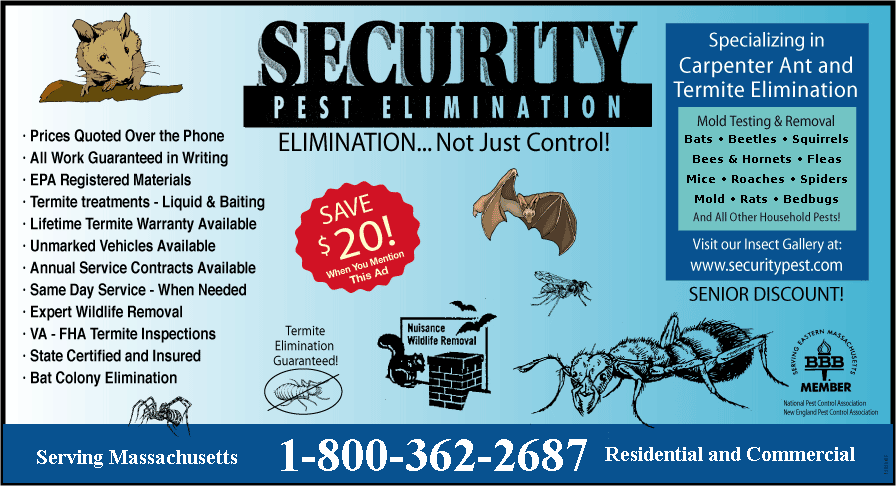 Abington MA Pest Control
Pest Control Services & Animal Control Services
781-337-5505
Our Pest Control & Squirrel Removal Services are 100% Guaranteed.
Security Pest Control is a family owned and operated pest control company. Our office is open from 8:00 to 10:00 PM daily. Our licensed pest control exterminators are highly trained in the elimination of all types of pests. Or exterminators average over 12 years experience. The most common pest control we perform in the Abington Ma area is for mice control, bat control, squirrel removal, ant pest control, termite control and more.
Safe and Effective Methods
At Security Pest Control we take your family's and your pet's health very seriously. Our pest control technicians use safe effective low-impact, child friendly pest control methods together with non-chemical and exclusion methods, as applicable. In addition to our individual pest specific treatments we can provide long term protection for to your Abington home for a wider range of pets with our semi-annual Residential Maintenance Program.
Termite Treatment &
Carpenter Ant Elimination Specialists
Our Pest Control Services in Abington, Massachusetts
Get your FREE Estimate Today!
Our local Abington MA number is 1-781-337-5505
Useful Abington MA Emergency Numbers
Abington MA Board of Health 1-781-982-2119
Abington MA Fire Department 1-781-982-2114
Abington MA Police Department 1-781-982-2111
Abington MA Animal Control Officer 1-781-878-3697
Follow us on:
Licensed Pest Control Exterminators in Abington MA
Experts in common and unusual pests