| | | |
| --- | --- | --- |
| | WELCOME TO | |
SECURITY PEST ELIMINATION
Serving the Methuen MA Area Since 1993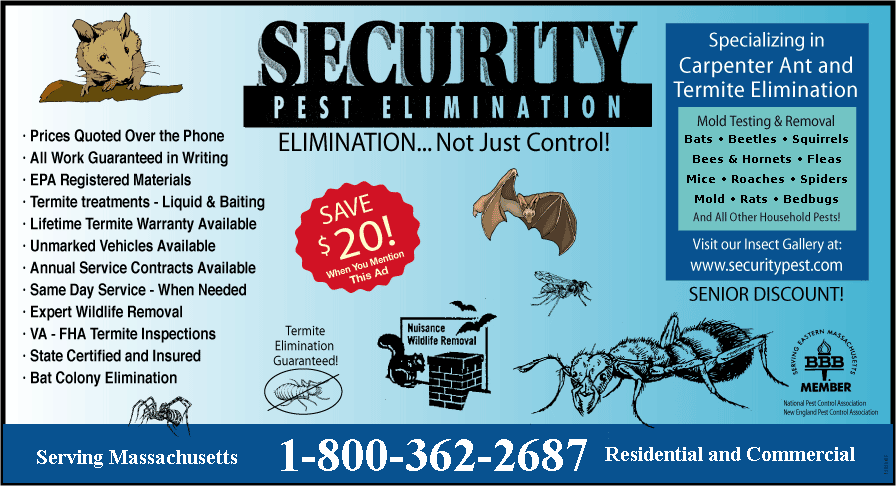 Pest Control Methuen MA
Pest Control Services & Bat/Squirrel Control
978-686-1142
Our Pest Control Services & Bat/Squirrel Removal Services are 100% Guaranteed.
Security Pest Elimination is a Massachusetts family owned and operated pest control company. Our pest control exterminators are highly experienced in elimination of all types of household pests and pests found in commercial buildings. Some of the more common pest control services that we perform for our Methuen Ma customers are mice control, bat removal, bee & wasp nest removal, squirrel control, ant control and termite control.
Our Pest Control Technicians are Experienced and Knowledgeable
We employ highly skilled technicians who have been trained in the latest pest control techniques. Our Methuen MA pest control technicians are State-Certified and Licensed professionals with more than 9 years of hands-on experience. Security Pest Control exterminators are constantly receiving updated pest control training on all types of household pests. Our Methuen Ma pest control exterminators also receive regular training for wildlife removal such as bat removal, squirrel removal and on humane wildlife trapping techniques. Security Pest Control understands the importance of sending out properly trained and equipped pest control technicians to your Methuen Ma home who understand the specific pest problems found in your community.
Safe and Effective Methods
At Security Pest Control we take your family's and pet's health very seriously. Our pest control technicians use safe effective low-impact, low-toxicity insecticides together with non-chemical and exclusion methods, as applicable. After a thorough inspection by one of our friendly and knowledgeable state-licensed technicians, we'll apply our highly effective, low toxicity pest control system. With just one application you will have the peace of mind knowing that we have protected your Methuen home with state of the art pest control treatment methods. In addition, we can provide long term protection to your Methuen MA home with our semi-annual pest control maintenance program.
We Offer Outstanding Customer Service
When you call our office you will always get a live knowledgeable staff member to answer your pest related questions. We fully explain our treatment methods, not just quote you a price over the phone. We strive to perform a very high level of service to all our Methuen MA pest control customers. In addition, we always strive to be on time for our service appointments.
Termite Treatment &
Carpenter Ant Elimination Specialists
Our Pest Control Services in Methuen, Massachusetts
Get your FREE Estimate Today!
Our local Methuen MA Pest Control number is 1-978-686-1142
Useful Methuen MA Emergency Numbers
Methuen MA Board of Health 1-978-983-8655
Methuen MA Fire Department 1-978-983-8940
Methuen MA Police Department 1-978-983-8698
Methuen MA Animal Control Officer 978-983-8650
Follow us on:
Licensed Pest Control Exterminators in Methuen MA
Experts in common and unusual pests