| | | |
| --- | --- | --- |
| | WELCOME TO | |
SECURITY PEST ELIMINATION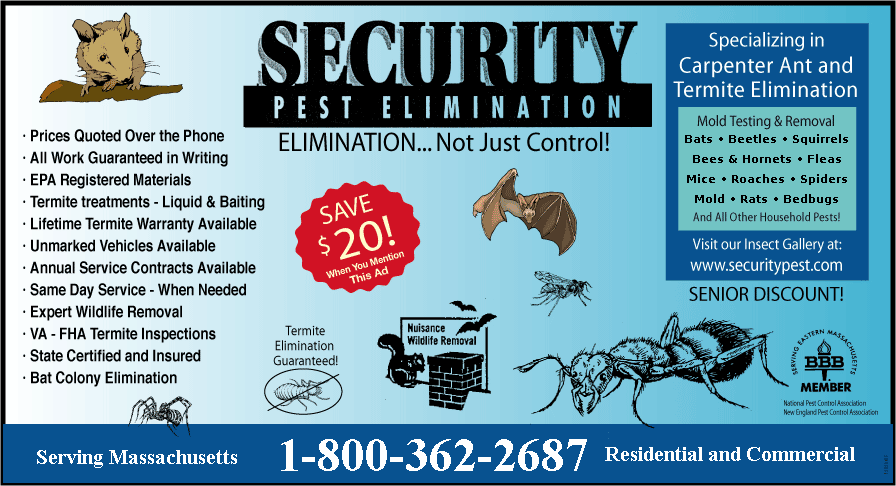 Security Pest Elimination
has been providing high quality pest control services in Eastern MA for 21 years. We provide the following pest control services: Fast safe carpenter ant control and black ant control treatments. Licensed bat control, bat removal and bat dropping removal services. Fast extermination of carpenter bees, wasp nest removal & hornets.  Professional squirrel removal & squirrel exclusions, expert squirrel control techniques, flying squirrel trapping & other animal control. Exterminators for mice control, rodent control, mouse control, rat control, flea control & spiders. Bed bug control, bed bug treatments, guaranteed complete bed bug elimination. Also, providing pest control services for many less common pest problems.

We perform the following Termite Control Services; termite pest inspection, free termite quotes, and industry leading longest lasting termite control treatments in MA.

We have provided this Web Site to help consumers identify pest control problems in the home or at their place of business. Our Photo Galleries are designed to bring you high quality digital images of common and unusual insects, along with nuisance wildlife which may be causing damage to your home or business. You can also find information about our Pest Control Services and the types of treatments we provide. All of our vehicles are unmarked for the privacy of our customers. Prices for most jobs can be quoted over the phone.

Our toll free number in Massachusetts is 1-800-362-2687.
Follow us on:
Licensed Exterminators of common and unusual pests
Massachusetts Termite Control Specialists