| | | |
| --- | --- | --- |
| | WELCOME TO | |
SECURITY PEST ELIMINATION
Serving the Winthrop MA Area Since 1993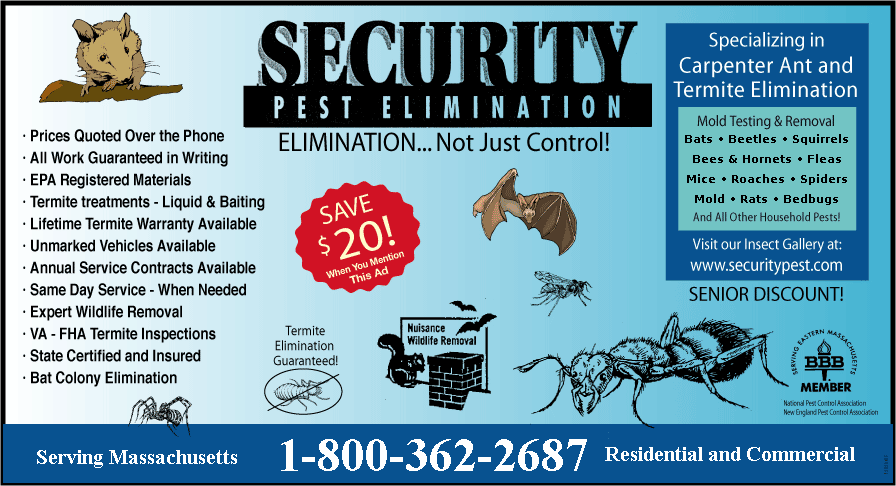 Security Pest Control is one of the most respected pest control companies in Massachusetts. We are dedicated at providing the fastest and highest quality service possible. Our exterminators have experience in all types of pest infestations and offer a 100% guaranty on all our work. We understand how much of a nuisance pests can be and how important it is to have the problem taken care of as quickly as possible. Provided pest control services include termite control, termite inspection, carpenter ant control, insect control, carpenter bees, wasp nest removal, hornets, bed bugs treatment, squirrel removal & squirrel exclusions, animal control, mice control, rodent control, mouse control, bat control and bat removal, bat guano removal, flea control, spiders, roaches and many other less common insect problems. Having an exterminator located in your local area means they will be able to provide prompt service and they have a deeper understanding of what pest problems are common in the community. This is because various areas of Massachusetts have different pest control issues and pest infestations. For example, urban areas are more likely to experience problems with rodent control and bed bugs. Having a highly trained pest control professional with area-specific knowledge helps us guarantee prompt and effective service.
We have provided this Web Site to help consumers identify pest control problems in the home or at their place of business. Our Photo Galleries are designed to bring you high quality digital images of common and unusual insects, along with nuisance wildlife such as gray squirrels, or flying squirrels, which may be causing damage to your home or business. You can also find information about our Pest Control Services and the types of treatments we provide. All of our vehicles are unmarked for the privacy of our customers. Prices for most jobs can be quoted over the phone.
We offer safe effective & 100% guaranteed pest control & exterminator services.
Get your FREE Estimate Today!
Our toll free number in Massachusetts is 1-800-362-2687
Our Local Winthrop MA number is 1-781-284-8282
Winthrop MA, Zipcode 02152
Follow us on:
Licensed Exterminators of common and unusual pests
Massachusetts Termite Control Specialists
Do You See Mold in your Basement or Attic Ceiling?